It is with great pleasure that I write to congratulate you on your nominations for the 2017 Northern Territory Young Achiever Awards in both the Somerville Community Service and Minister for Territory Families Excellence in Youth Leadership Awards.
The Northern Territory Young Achiever Awards are an amazing opportunity for the community to recognise the contributions that young people are making across the Territory.
I appreciate the effort that is undertaken every day by young Territorians who strive to realise their vision for a better more inclusive commun¡ty for us all. Our Government recognises the work you do is vital to ensuring the best outcomes for all Territorians.
There are so many advantages to living in the Territory with all our natural beauty, industry, agriculture and development opportunities, but you as a Young Territorian are this place's greatest asset. This is your future and your Territory, continue to strive for excellence.
You should be incredibly proud of your achievements and being nominated for such a prestigious award. I wish you all the best for your future, and have no doubt you will continue to accomplish great things for your local community.
It is my pleasure to support Jessica Hickman. Jess never ceases to impress me; she is easily the most compassionate person I know. Jessica is kind of person who goes out of her way to help the less fortunate every day.
It has been a privilege to know this brilliant and dedicated person who has been helpful in promoting and supporting OzHelp breaking stigma on mental health.
Thank you Jessica for your hard work and support from the OzHelp Foundation.
Jessica demonstrated a genuine commitment and concern for the wellbeing of the workforce and anyone who crossed her path. She has an extraordinary ability to engage with senior management, middle management and workforce through her enthusiastic approach to challenges, courage and positive and creative perspective in every situation. Jessica is a true partner, a delight to work with and a powerful force for change and success. Jessica has made and continues to make a massive difference to the industry and the people she touches.
Jessica is a highly engaging facilitator who effortlessly builds rapport with diverse audiences, both inside and outside the training room. She consistently receives outstanding evaluations because of her positive, easy-going manner and broad subject matter knowledge. Jessica has formed strong professional relationships, working collaboratively to deliver results in-line with the organisations missions and values. Above all, Jessica goes out of her way to make a real difference in people's lives, breaking down barriers and building connections built on empathy, insight and understanding.
A positive story: we hear so much about the devastating consequences for the victim of workplace bullying but for some, it is also eventually about empowerment. The ability to find within themselves the resilience to rise up, acknowledge that this treatment is not ok and to educate others about the toxic impact of workplace cultures who tolerate workplace bullying. Make no mistake, these behaviours injure and it is violence at work. Well done Jessica.
Jessica Hickman – The Bullyologist is going places, I have had the pleasure to watch her grow over the last 12 months, as well have many conversations with her. Her insightful knowledge has allowed me to help my son with his experiences of bullying.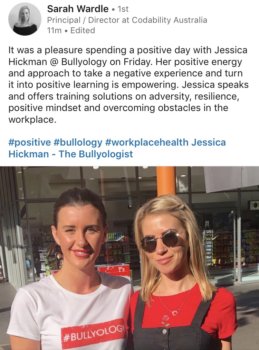 Jessica Hickman is a professional member of these associations: